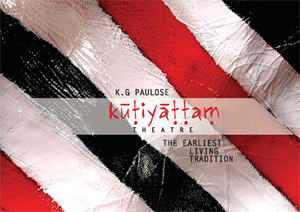 Published with financial assistance of UNESCO/Japan Funds-in-Trust
Distribution: Bharath Book Corporation, New Delhi.


Price Rs. 950/-

D C Books
Kottayam
kerala
India
686001
Book Published on December 03, 2006
To the beginners who are first initiated to this theatre this book will be informative and instructive; to the connoisseur it throuws up many ideas for further thoughts, some perhaps controversial. Some sections of the book are historical, some descriptive and some analytical.
- Dr. K. Ayyappa Paniker
K.G. Paulose, an untiring researcher in kutiyattam,considered to be the only surviving Sanskrit theatre, well preserved in Kerala, has come out with a comprehensive and in-depth study of this ancient form of visual performance with the roots of Bharata's Natyasastra. The beginnings of this traditional theatre are lost in myths and legends. The very fact that it has been preserved for the past several centuries is nothing short of a miracle, but through various ups and downs during its long history it has maintained a vibrant repertory with elaborate stage manuals and performance manuals intact. Much may have been lost due to the indifference of the practitioners and the neglect of the public, but what has survived the unkind onslaughts of history is truly remarkable which makes it one of the intangible heritages of mankind.
Read more...
Paricayakam ( Introduction )
Crisp introduction



Dr KG Paulose's Kutiyattam Theatre: The Earliest Living Tradition is an exploration of the wonderful world of this magnificent art form that was once the hereditary privilege and coveted legacy of a few families and the performance of which was confined exclusively to traditional theatre halls annexed to large temples where admission was restricted rigidly to the upper castes and which UNESCO has declared as one of the 'masterpieces of oral and intangible heritage of humanity' in 2001.
- >Boloji.com
---