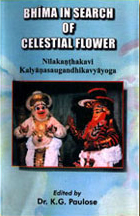 - Kalyaana Saugandhiaka in Performance




New Bharatiya Book Corporation
New Chandrawal
Delhi

2000

Price: Rs - 350/-

Kalyana Saugandhika is one of the earliest Sanskrit plays from Kerala. This is used by the chakyars for presentation on the Kutiyattam stage. The celebrated scenes of 'ajagarakabalitam' (elephant swallowed by a python) and marutololita (couple shaken by the wind) are from this play. This edition gives the Sanskrit text with notes, translation and the stage manual for Kutiyattam presentation.